Lara Birnbaum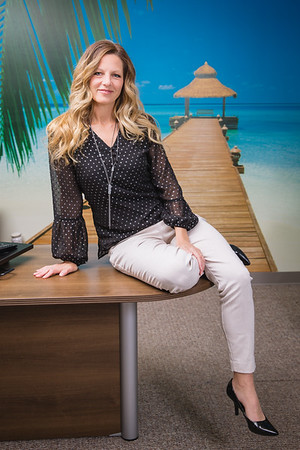 I believe Helen Keller said it best, "Life is either a daring adventure or nothing at all", and if she can look at life as a great adventure, what excuse do the rest of us have. Travel is about taking a chance to live life to the fullest and when we are at our most daring is when we feel the most fulfilment.
Things I love about my job - Becoming a Travel Agent was exactly this for me as I was looking for a change in my career choice and quite frankly booking travel sounded fun and a chance to learn more about this amazing world we live in. Customers come to us with a dream they have, a bucket list destination, an adventure playing out in their head that needs fulfilled, quality time with their family, a destination wedding or the girls just needing some "girl time". Whatever it is, it is my job to see the experience they are envisioning come to life. How exciting to be a part of a very special moment in time for all the clients who walk through our doors.
The most rewarding thing about my job - Travel has been a part of my world as well and I do have experiences to offer my customers but I too have so much more on my list. I was born overseas in New Guinea off the coast of Australia and have lived in Canada and the US. I have seen the breathtaking landscape of Jamaica, toured the Dutch and French island of St. Martin in the Caribbean and snorkeled off the beaches of Fiji. I've cruised the Pacific Ocean on a catamaran, zip lined over treetops and white water rafted through canyons while visiting Costa Rica.
Most Memorable Trips - I think one of my most memorable trips was watching sea lions sun themselves on rocks below the famous Arches in Cabo San Lucas. You know, one of those views you cannot explain because you not only see it you feel it.
What do I bring to the table? Destinations Travel Services has provided me with a home away from home dedicated to giving exceptional life experiences to our community. I am part of a team who cares about our customers and making sure their needs are met exclusively as our service brings their dreams to life.
Favorite Food- I'm a pretty healthy eater and there is a local cafe I have got to say serves the very best Apple, Pecan and Cranberry Salad with Chicken...Yum!
Favorite Drink- Well it use to be a Minty and refreshing Mojito but now I'm pretty simple and a Diet Coke will always make me happy.
Favorite Music- I am an 80's girl and Classic Rock is always on my play list.
Travel Tip- If you are flying for any length of time, bring a Travel Pillow and download your movies to your IPhone before your flight. Also, most airlines have Apps you can download and use beforehand to check-in with and monitor the status of your flight. The Apps usually always have perks you can access while your in-flight also which makes the flight more enjoyable.
Contact Lara:
If you have a love or desire to travel, go to my business Facebook page and like it, you can follow my story there, or simply stop by to say hello!